If you are interested in attending the lunch seminar, please read here.
***************************************************************************************************
"Effective Writing Strategies to Improve the Impact of Your Research Article"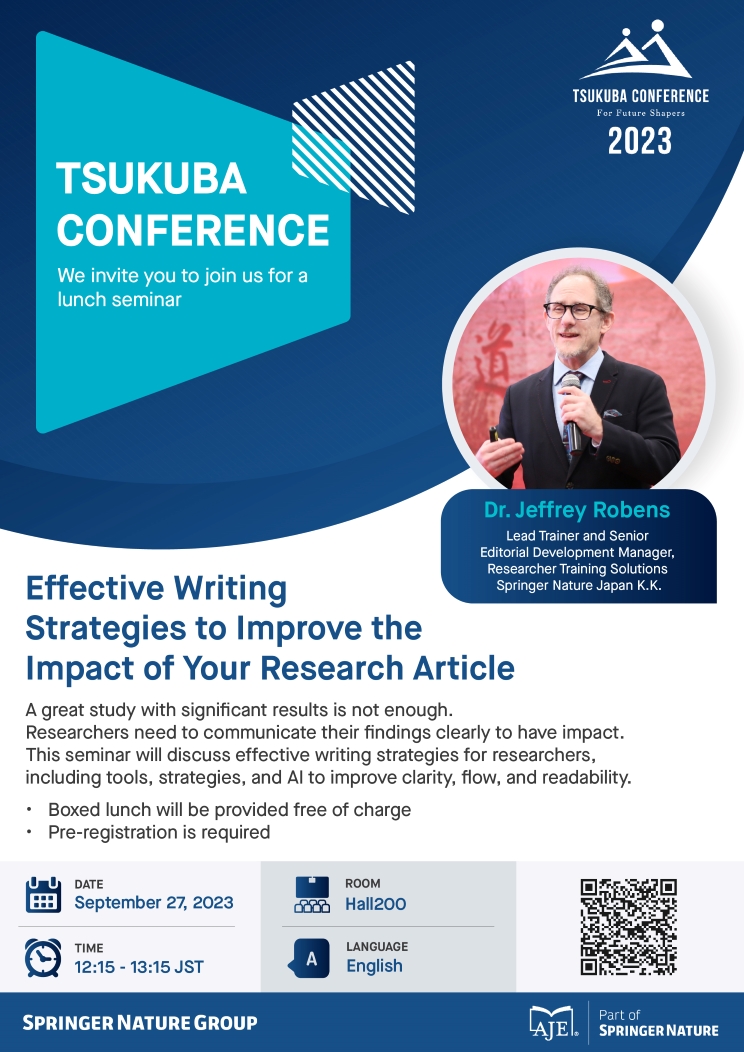 Having a great study with significant results is a great first step to having impact and influence in the field. However, if the ideas are not communicated clearly in the article, the significance of the study will not be clear to the reader and its impact will be lost. In this luncheon seminar, American Journal Experts and Nature Portfolio will discuss effective writing strategies that researchers can use to ensure their articles have the impact they deserve. We will first discuss useful tools that are available to assist researchers to improve clarity and accuracy of their writing. We will then review useful strategies that researchers can implement to improve the logical flow and readability of their papers. Lastly, we will highlight the advantages and limitations of using AI to improve the efficiency of the writing process. Together, these skills will help researchers overcome challenges they are facing to maximize the impact and influence of their study in the field and in society.
<Speaker introduction>
Dr Jeffrey Robens is Senior Editorial Development Manager at Nature Portfolio and is the Lead Trainer for the Expert Trainer-led Nature Masterclasses—training workshops to improve publication output worldwide. He has strong scientific qualifications with 20 years of academic experience and numerous publications and awards. He received his Ph.D. from the University of Pennsylvania and then worked at premier research institutes in Singapore and Japan. Since leaving academia in 2012, he has conducted over 500 days of academic training workshops worldwide to help researchers improve their publication quality and impact.
Organizer; AJE/Springer Nature,   Language; English
ランチョンセミナーへの参加を希望される方は、こちらをお読みください。
*********************************************************************************************
「研究のインパクトを高める効果的な論文執筆ストラテジー」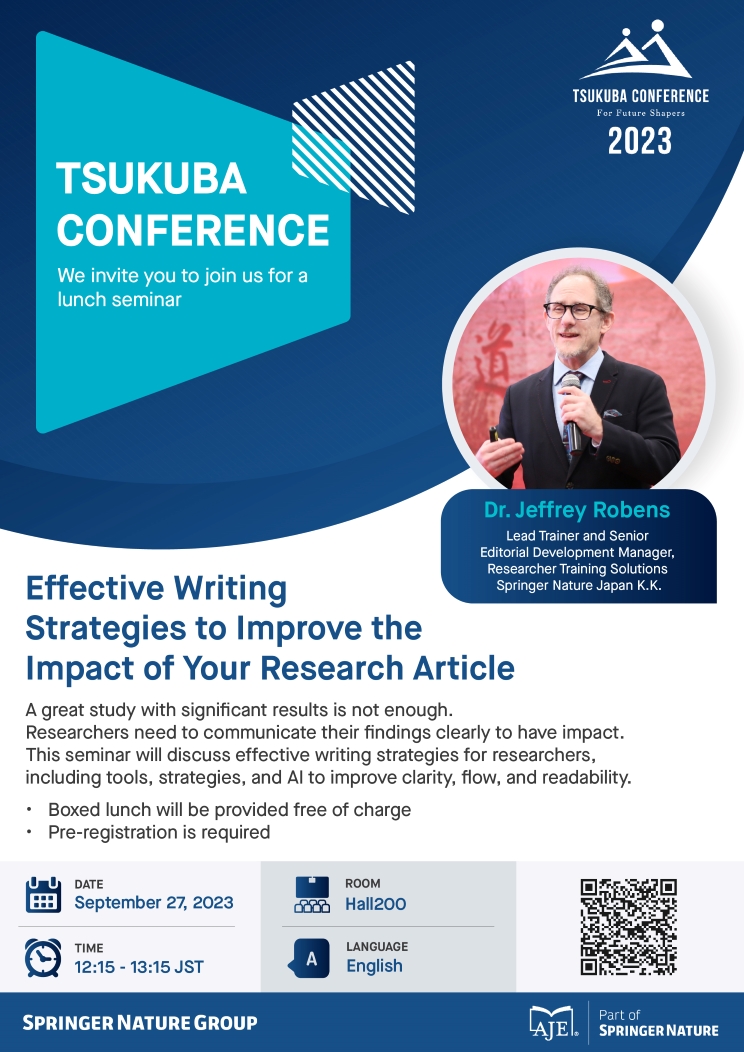 重要な結果を伴う優れた研究を行うことは、その分野で影響力を持ち、インパクトを与えるための素晴らしい第一歩です。しかし、論文の中でアイデアが明確に伝えられていなければ、研究の意義が読者に伝わらず、そのインパクトは失われてしまいます。このランチョンセミナーでは、AJE (American Journal Experts)とNature Portfolioが、研究者が自身の論文に適切な影響力を持たせるために使用できる効果的な執筆戦略について議論します。まず、研究者の文章を明瞭かつ正確にするために利用できる便利なツールについて説明します。次に、論文の論理的な流れや読みやすさを改善するために、研究者が実践できる有用な戦略を見直します。最後に、執筆プロセスの効率を向上させるためにAIを活用することの利点と限界について取り上げます。これらのスキルを組み合わせることで、研究者が直面している課題を克服し、研究の分野や社会における影響力を最大限に高めることができます。
<講師紹介>
ジェフリー・ローベンス博士は、ネイチャー・ポートフォリオのシニア・エディトリアル・デベロップメント・マネージャーであり、エキスパート・トレーナー主導のNature Masterclasses(世界中の出版物の品質向上を目指したトレーニングワークショップ)のリード・トレーナーでもあります。20年にわたる学術経験を持ち、数多くの出版物や賞を受賞しています。ペンシルバニア大学で博士号を取得後、シンガポールと日本の著名な研究機関に勤務しました。2012年に学界を離れて以来、世界各地でのべ500日以上の学術トレーニングワークショップを開催し、研究者の論文発表の質と影響力の向上を支援しています。
主催:AJE/Springer Nature、 言語:英語